Counseling & Therapy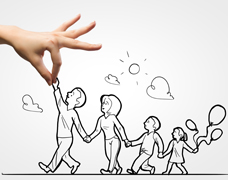 For people seeking help
Whether you are a permanent resident or newly arrived, you or your family may find life difficult at times. You may encounter new problems or find old ones reappearing. Situations with which you could cope before now seem too much to handle. At such times, it's helpful to be able to talk to a professional in English.
ICS provides psychological, educational and mental health assistance to the Anglophone community. The members of ICS are all qualified Mental Health Professionals and are bilingual in French and English. Our goal at ICS is to help people find the means to explore and resolve problems that are making life less satisfying.
ICS offers referrals for:
Individual psychotherapy for children, adolescents and adults
Educational and psychological evaluations
Family and couples therapy
Group psychotherapy
Crisis intervention
Stress management training
How does it work?
When you contact ICS, one of our team members will do an initial assessment of your problem and needs. If necessary, this first assessment will be followed by an appointment with one of our members. This consultation is free of charge. This interview will help to further identify your specific needs. At the conclusion of this interview, the therapist will make a recommendation, which may include a referral to a therapist or other appropriate resource in the Paris community. ICS has professional ties with hospitals, schools, medical practitioners and other professionals.
We are specialized in a number of difficulties, including: